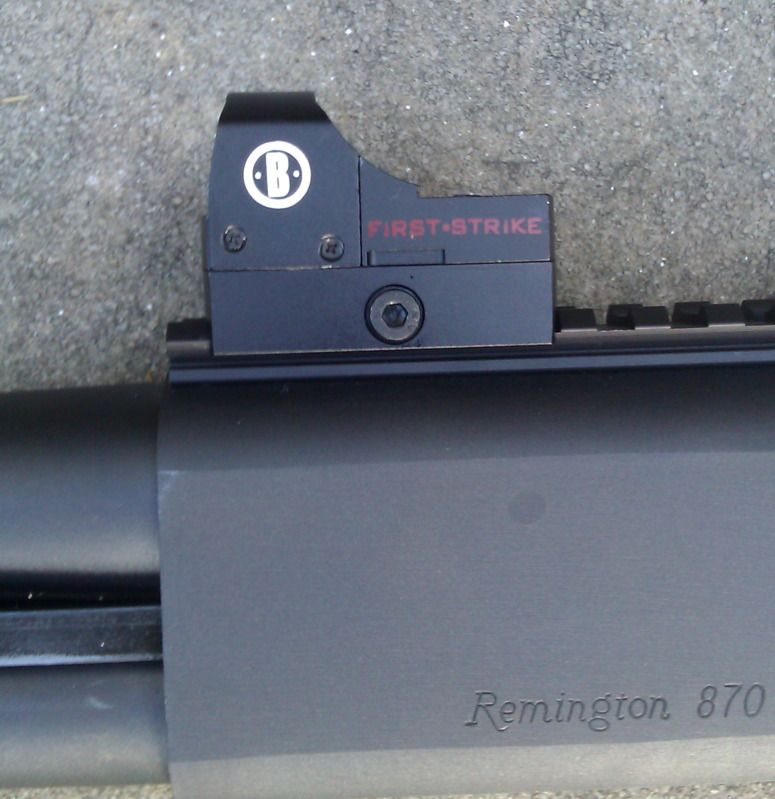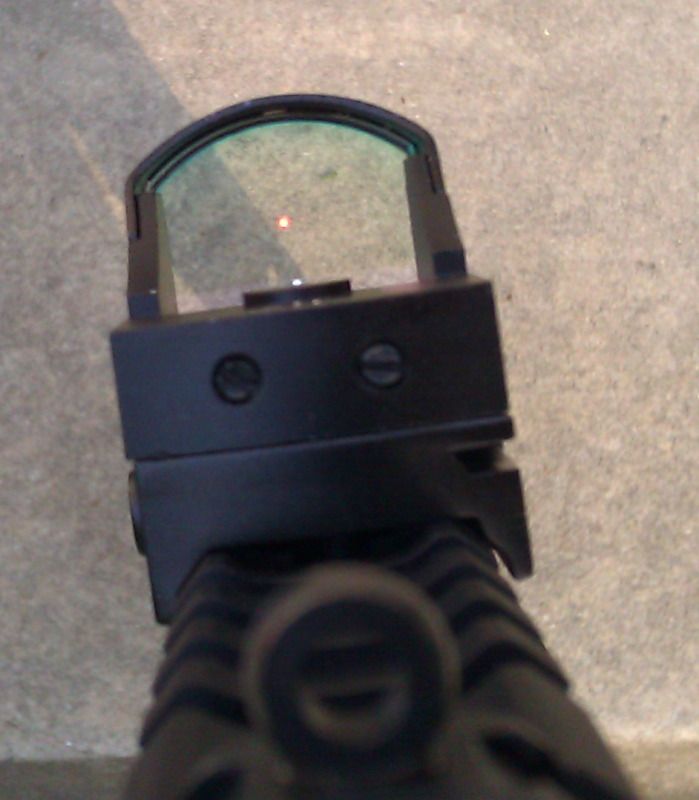 This optic was tested on my 870, but my ultimate plan was to put it on my Draco SBR (or maybe a 22 AR plinker) once the stamp comes in (been 7 months now....
) but I'm not so sure about that plan now, here's why:
When I first saw that Bushnell released the First Strike at Shot Show, I was immediately intrigued. Red dot optics have improved by leaps and bounds in the past 10 years and this little optic looked very promising to me as it can be mounted on a rimfire pistol, AK, AR, shotgun, ect... I ordered one from Bushnell directly for $140 and it arrived in my mailbox in on Monday, I mounted it on my 870 Express Tactical, threw some rounds in my bag and I had it on the range on Saturday. I zeroed it in, had a little fun, then turned the camera on to begin the review.
Before I get in to what happened next, here are some specs for the First Strike:
5 MOA
Matte finish
Multi-coated optics
Self regulating brightness
Integrated mount
100% waterproof/fogproof/shockproof construction (that's the claim)
CR2032 battery
The optic automatically shuts off when the cover is applied (my favorite feature of the optic)
Once I turned the camera on, a small crack developed in the lower left part of the glass but I didn't immediately notice it when shooting (talk about tunnel vision!). After firing a few rounds of birdshot & buckshot mix with the camera on, I put about 50 rounds of Winchester Walmart special (a light load) through it. I noticed the right side crack as one of those rounds broke and pulled my head back to look at it and noticed the left side too! The dot was still working for what it's worth but the product was broken for sure.
I called Bushnell today and spoke with Tiffany who had never heard of this before so she put me on hold and got a technical supervisor. He too stated he had never heard this before and was very interested in what happened. Since this is a very new product that has generated a lot of buzz, they seemed particularly concerned if there was a "bad batch" that went out. They put me on hold to see when my particular unit was made, then got another tech supervisor who asked tons of questions. The seemed to be very perplexed with what I was telling them. I told them I had it on video and could send it to them since they were so interested and I'll email it to them tomorrow. The tech guys got done with their myriad of questions and handed me back over to Tiffany. She stated that they would pay shipping both ways and have a new one back to me in no time. The tech guys both assured me the optic should work on a 12 gauge with no issues and they seemed to believe my unit was probably made incorrectly (one tech said he was going to rip the unit apart to make sure the 'flaw' isn't going into the newly made units). Everyone at Bushnell was really professional, courteous, and seemed to be genuinely concerned with solving the problem and I hope they do.
Overall the product was a failure and I wouldn't recommend it at this point. But, great customer service will make me continue buying products from Bushnell. A company that stands behind their product is a company I will continue to do business with.
Here's the video:
Video