For those interested in testing ammunition in water, I thought that it might be nice to post my most recent (12.08.2012) water test result of the Federal 12 gauge Barnes Expander 3/4 oz (P152XS) as fired from an 11-87 with a 21" rifled barrel. I have used this saboted slug occasionally when deer hunting and when it remains inside of the deer's body (as it often does on quartering frontal presentations), penetration commonly occurs in the 18" - 22" range with robust expansion of about 1.5 to 1.6 times caliber (initial slug diameter is 0.504" +/- 0.005").
The test range was 35 feet and the slug's velocity at impact (1707 fps) was recorded by a F1 Shooting Chrony placed about 5 feet in front of the test barrier- four layers of medium weight denim. (Yeah, I know that deer don't wear jeans, but I needed a barrier of some sort so humor me, OK?
)
I also discovered that if I wanted my chronograph to produce an accurate reading of the slug's velocity, it had to be placed no less than 30 feet from the 11-87's muzzle- otherwise muzzle blast plays havoc with the gadget. This turned out to be a good thing since the impact produced quite a splash- not an enjoyable experience in 35F weather. The chronograph got wet, but seemed to suffer no ill effects after I wiped it dry.
Front view:
Side view: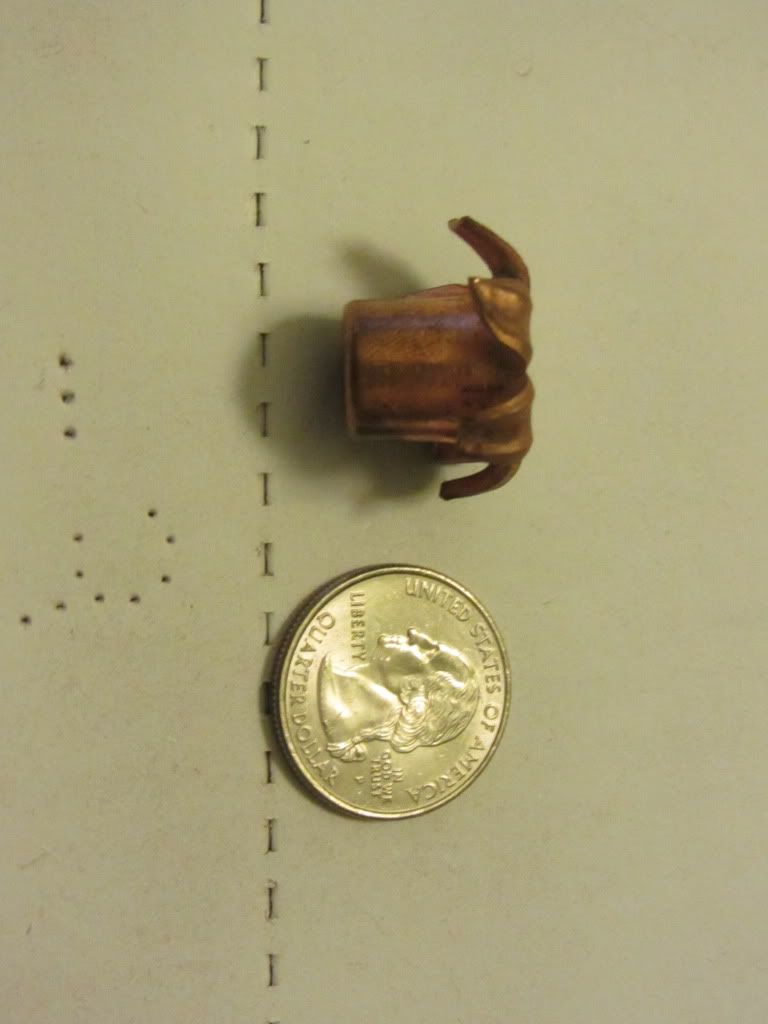 Rear view: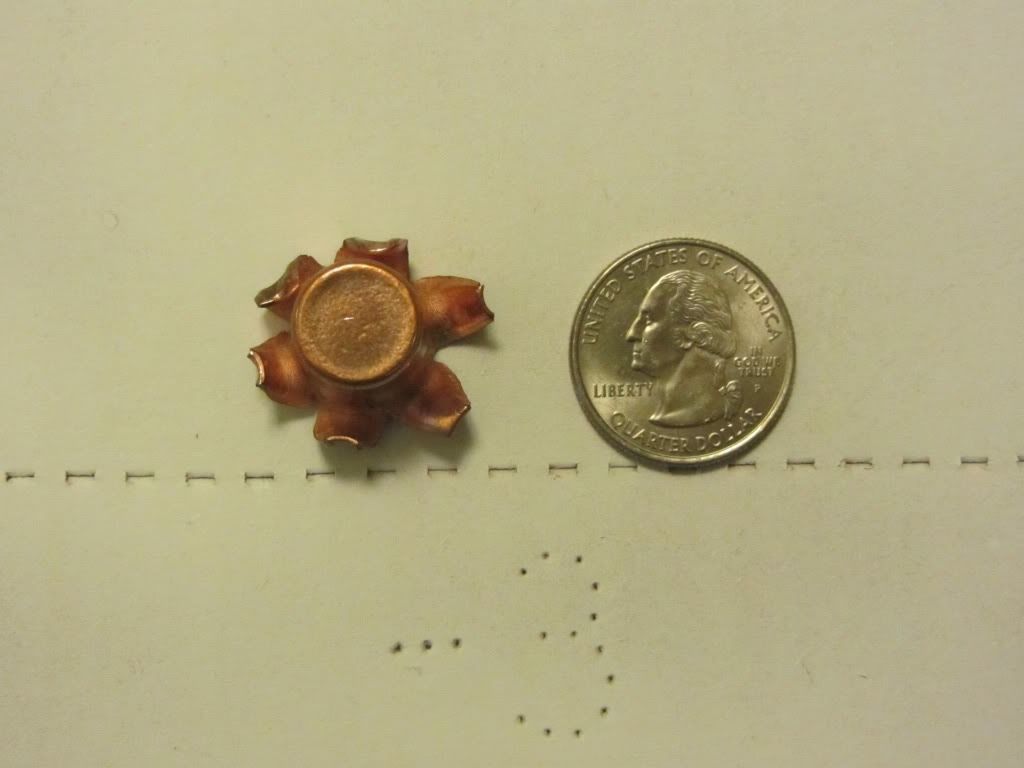 Here are the Schwartz and MacPherson bullet penetration model analyses for this test:
Federal 12 gauge Barnes Expander 3/4 oz (P152XS) v. four layers of denim
Recovered Projectile Data:
Average Recovered Diameter: 0.7898 inch (1.57x caliber)
Retained Mass: 325.4 grains
Impact Velocity: 1707 feet per second
Schwartz Model Terminal Performance Prediction:
Penetration Depth (S) = 52.91 cm (20.83 inches)
Permanent Wound Cavity Mass (MPC) = 142.46 grams (5.03 ounces)
MacPherson Model Predicted Terminal Performance Prediction:
Cavitation Regime occurs above Vc = 371.04 fps
Penetration Depth (Xcm) = 52.00 cm (20.47 inches)
Permanent Wound Cavity Mass (Mw) = 126.48 grams (4.46 ounces)
Once again, I am always surprised by the agreement that the MacPherson and Schwartz bullet penetration models share with one another as I often use them both and take the average of the two yields as an indicator of the potential terminal ballistic performance of the ammunition being tested. In this case, it would seem that an average of 20.65 inches of penetration and about 4.75 ounces of permanently crushed tissue along the length of the entire would track can be expected.
Hope you all enjoy the info.