This is a new offering from DT.
An honest to goodness Bonded Defense line SPEER
GOLD DOT in 147 grain form.
More than a few people have asked for this in the last year or so. Just email MIKE, for availablilty.
I've always been a big fan and also trusting of his 147
gr. Gold Dot's, so this .357 SIG load is very promising.
I'd like to shoot it out of my Gen 3 Glock 32, but a little
voice tells me it will be much sweeter.. out of a Gen 4
Glock 33.
In any event, it should shoot equally as soft and have
supremo accuracy like the Double Tap 147 gr. Nosler JHP.
I think that with the .357 SIG you really get 2 guns.
One that approaches and sometimes surpasses the goal
of .357 Magnum stopping power.
Also one that allows fans of the 147 Gr. 9mm to shoot
that bullet weight at a much faster velocity than any
9mm can.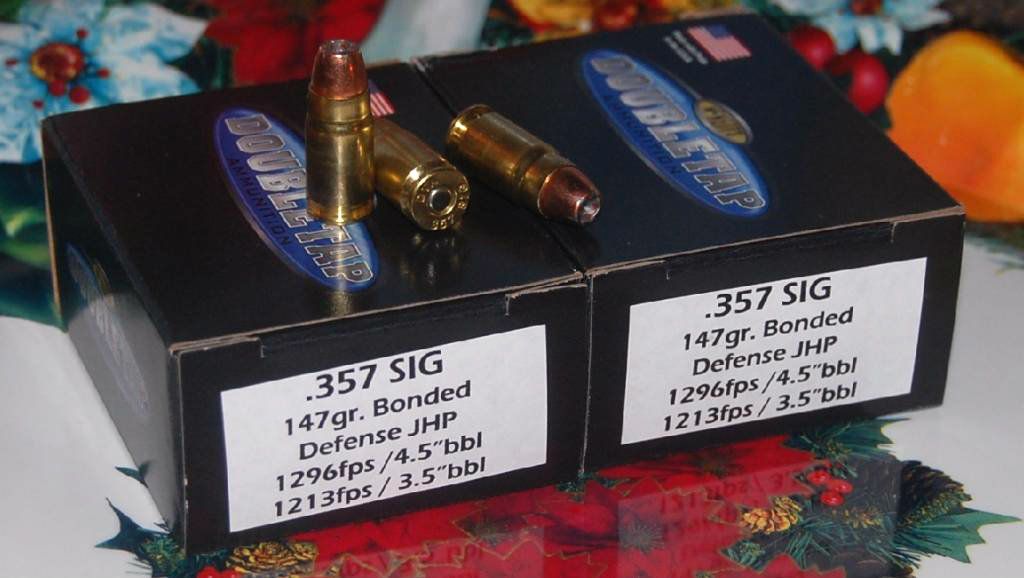 Anyhow, those of you with interest in the DT 147s or other
Double Tap products can find them here:
http://www.doubletapammo.com/php/cat...jon4589k5hdl37
Again, ask about the DT 147 Bonded Defense in .357 SIG.
---------------------------------------------------------------
One load for winter if you carry a 9mm is the very proven formula of the Speer 124 gr. Gold Dot in the fight stopping
+P version as carried by the NYPD and others across the nation.
The 124 gr. +P seems to be an ideal load for that city's harsh
winters and criminals dressed in heavy clothing.
DT's offering uses the proven Gold Dot bullet at enhanced
velocity.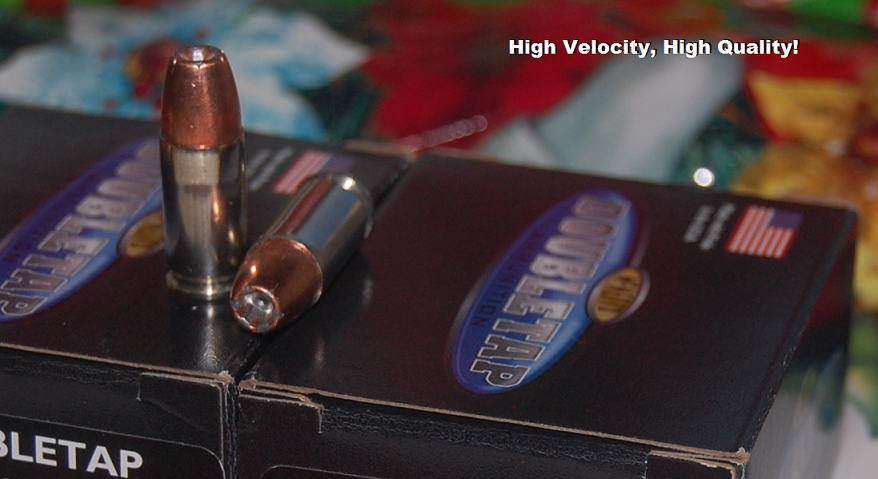 I've shot some earlier DT 124s There seems to be some more recoil out of the
DT +P load over the Speer offering, but not very much.
Some numbers for you as posted on the net.
I'm not sure out of which length barrel.
DoubleTap 9mm+P
115gr. Gold Dot JHP @ 1415fps - 12.00" / .70"
124gr. Gold Dot JHP @ 1310fps - 13.25" / .70"
147gr. Gold Dot JHP @ 1125fps - 14.00" / .66"
Both do utilize the same bullet.
So, if you are looking for a very street proven formula
with a little more edge to it. This DT 124 load might fit the bill.
Advertised velocity may differ in your local, but you are still
getting some potent ammo.
Bullet : Bonded Defense™ JHP
Ballistics : 124gr @ 1310fps / 473ft. lbs. from a G17.
124 @ 1295fps / 462 ft. lbs. from a G19
You can find it here.
http://www.doubletapammo.com/php/cat...jon4589k5hdl37
Then there are the revolver loads...
Thanks for looking and have a joyous but safe Holiday Season!