We haven't been hunting this week due to the weather and work. The wind has howled from the north-northeast all week from the storm. We really have no good stands to hunt with this wind due to the way our sites are oriented. We went out yesterday with the wind howling out of the southwest.
I was hoping they would move and we were both itching to get back in the woods as we have been seeing deer lately. I made some doe in heat scent bombs and gave them to my son. I have had good luck with this on windy days during the rut and I killed a buck the day after I took the coyote with them.
About an hour before dark this fellow slipped in and come right up to one of the scent bombs and my son took him at about 60 yards from the stand. He does not have a big rack but he had a heavy body for the area we are hunting at 155 lbs. The largest bucks we have taken only go about 175-180 so we considered him a nice buck.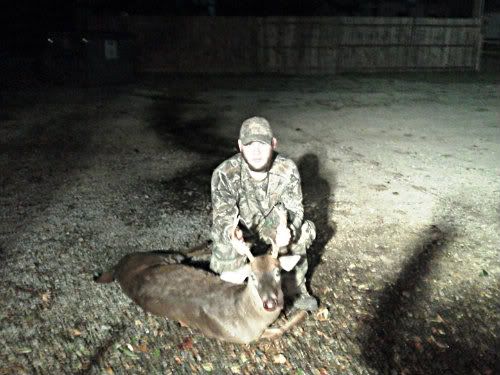 For those that want to know, I make the scent bombs with used medicine bottles and cotton balls. Stuff the cotton balls in pour doe in heat and put them a comfortable distance from your stand. I try to concentrate 2-3 of them in a 90 degree area in front of the stand. The bucks tend to spook if they come in and don't find a doe with all that scent. So you want to be able to spot the deer and get on him quickly before he spooks. Recap and remove bottles when you leave the stand.