Quote:
I am going to start loading some brass for my AR tonight.... regards to bumping the shoulder back
when I measure the fired cases I am getting headspace readings of 1.454-1.460.(Using Hornady Gauge)
...wondering how I should set up my die.
1. The AR unlocks/opens under considerable residual pressure. Any/all fired cases are therefore unlikely to give you true headspace readings.
2. FULL LENGTH RESIZE for the AR (and all gas guns) as a matter of discipline. You are not about to wind up with "excess headspace" since the sizing die is designed to produce SAAMI spec dimensions. If you want target dimensions, measure a commercial/military unfired round and standardize on that.
3. Others might suggest fiddling with things to bump the cases to just clear bolt closure, but not at this stage of the game.
~~~~~~~~~
As point of reference, here's the SAAMI diagram: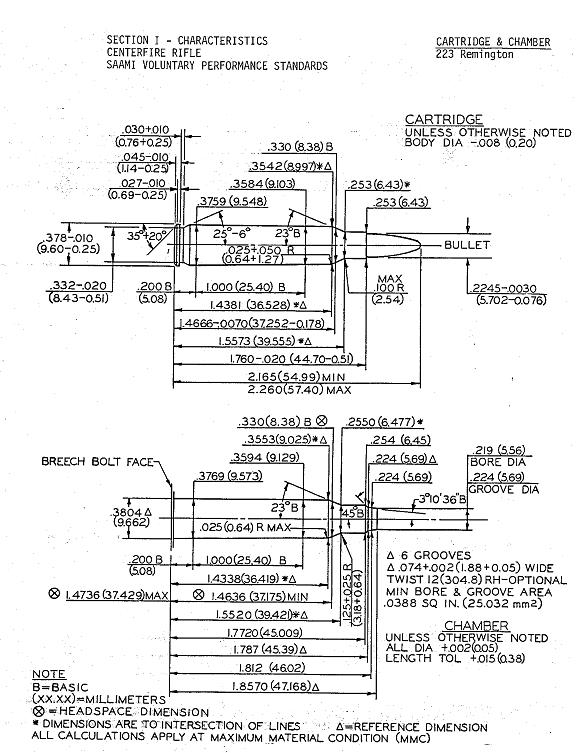 Civilian GO 1.4640" (min headspace)
Civilian
NOGO 1.4670" (max headspace) -- Note: military NOGO is somewhat longer (FIELD gauge can be 1.4
7
30
If you want to be totally blown away, take a look at how things vary for max:
http://ar15barrels.com/data/headspace.pdf
But remember, your Hornady is a
comparator
gauge, not an actual true-blue headspace gauge. Take a reading off a commercial round for baseline.