After making a fast-draw holster for my M66-4 so that I can play gunfighter with it and not having any belt holster for my 3-inch M696 (holsters for 3 inchers seem very rare on the market), having an abundance of leather left over, I decided to make another holster.
This one is reminiscent of early (not later TV and movie) cowboy holsters albeit, for a double action. It is stained dark-brown and in the style of distressed antique leather. I will try fast draw with it (note the exposed trigger, and the re-holstering ear at the top), also inasmuch as my holster making has an eye toward experimentation with function.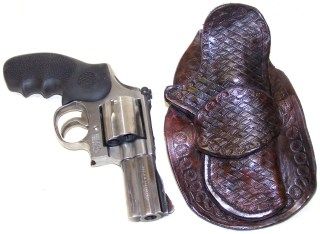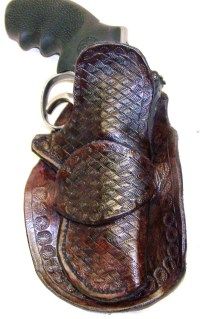 The original cowboy holsters would have likely been untooled, plain. Personally, I do not care for floral patterns on leather unless attending a gay wedding. However, basket-weave dresses up the leather considerably.