It's taken me a bit longer then normal to both get the time to do this review and gain enough familiarity with this gun to get around to this review.
As a short background on why I bought a Shield in simple terms I wanted a single stack Glock 26/27 but everything that came out seemed to have one issue or another that kept me personally away. Not that the competition makes completely inferior firearms just that they didn't find that "Goldilocks" sweet spot for me. For comparison I cross shopped the following.
Kel-Tec PF-9:
Frankly I have seen too many Kel-Tecs go down catestrophically for me to seriously consider them.
Ruger LC9:
Great little gun. Don't care for magazine disconnects and it has a trigger you start pulling on Monday to shoot on Thursday.
KAHR PM/MK:
Great guns, great triggers quality control scared me off a bit. I have shot several PM9s that were fantastic though. Cost is high.
Walther PPS:
Love the P99 series. Like everything about the PPS except for the cost and that back strap lock out function. Cost of guns have come down but magazine costs are very high.
Beretta Nano:
Frankly I thought this was going to be the one until the launch got very mixed reviews especially with light / cheap ammo. Newer guns seem to have worked through the teething issues in their defense.
So all of that lead me to the Shield. The launch was fantastic with both guns on the shelf, good pricing, accessories available and very minimal problems. There were apparently some issues with being able to push the gun out of battery and not returning fully and some magazines dropping out of the .40s. My gun doesn't exhibit either of these and neither problem seems systemic across the board.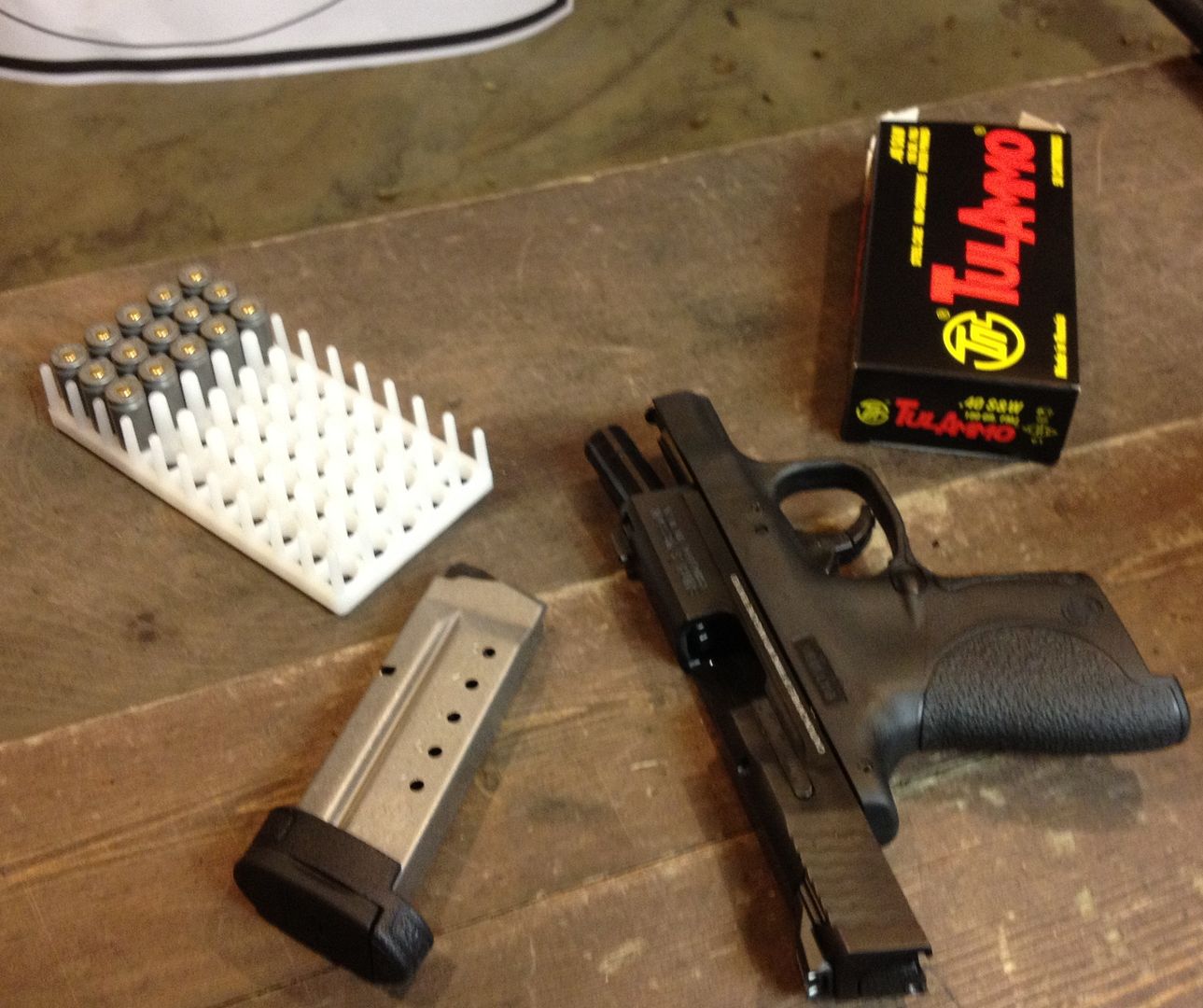 So on to the review. All ratings are out of 5 with 5 being the best and 1 being the worst. Review was done over several shooting sessions, with several ammo types. Total ammo shot through the gun at this point is around 500 or so mixed rounds.
Since this is a defensive handgun at its heart lets start with what matters most in my opinion.
RELIABILITY - 5+
I have been unable to induce a failure in any normal way. I haven't run it over with a truck or buried it in oatmeal and gravel etc. I have shot 500 or so mixed rounds ranging from the cheapest factory ammo I can find TulAmmo to various high end hollowpoint ammo including Gold Dots, Winchester PDX, Hornady Critical defense. Gun has also had Winchester White Box and Federal American Eagle. Both 165 and 180 grain rounds were used. I have shot off hand, wrong handed, limp wristing, sideways etc. and have not induced a failure of any kind with any of the ammo use. I am very happy that this gun appears to handle from mild to wild out of the box. This is good for an itty bitty semi auto.
ACCURACY - 4
I am an ok shooter at best with a wide variety of platforms. There are few guns I cannot pick up and shoot yet no guns I can pick up and shoot spectacularly well. Think Jack of all trades hobbyist shooter. I am no door kicker for sure. That being said the Shield took me two range sessions to really get a feel for it. Small, light gun. Reasonably powerful cartridge, short sight radius and more so then anything a trigger that had me a bit flummoxed at first. Center mass hits were extremely easy quickly out of the box but any kind of precision I was having difficulty with. Basically the trigger although smooth has a very hard break for me. It took a couple range sessions and some dry fire practice to really start to get it down. Once I got the feel I was able to shoot 30-40 feet groups about like shown which is very very good for me. I feel like the gun is very mechanically accurate and other reports seem to bear this out. Just keep in mind I don't feel this is a new shooter kind of gun. It requires a bit of work/practice in my opinion.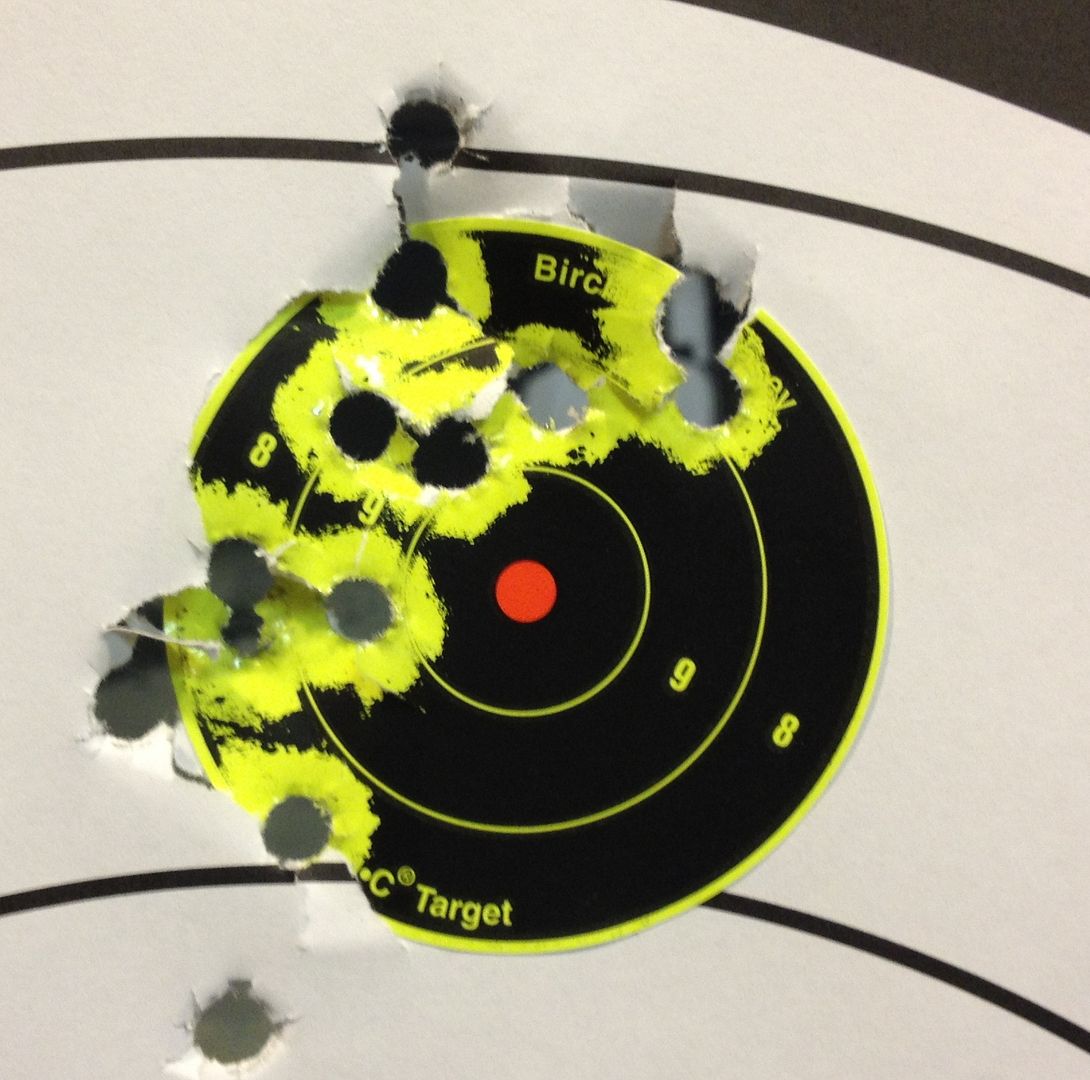 TRIGGER - 2.5
So all I keep reading is how much better the trigger is on the Shields compared to the standard M&P line. If true may God have mercy on you normal M&P guys. Ok that might be a bit unfair. A little background. I am a double action guy. Have shot double action revolvers for a long time, shot SIGs for a long time and learned to like or at least handle Glock triggers. It's not that the Shield trigger is horrible as much as once you get to the break point it just seems so heavy/crunchy to me. Is it as bad as an LC9, by no means. At the end of the day I feel Glock triggers have it all over this trigger and we won't even talk about P99s/PPQs as they are "butta" by comparison. Again don't take this as a deal breaker as after a couple range sessions I was able to get the feel for her and keep in mind I pefer a KAHR trigger as it is long smooth and revolver like. So this is likely more personal pref. then anything. The reset is however very fast.
BUILD QUALITY - 3.5
Hey its a plasti......ahhh I mean high tech techno-polymer gun. Build quality on my example is very good but not up to the fit and finish of say a Walther or HK. Think single stack Glock. Certainly nothing wrong with it in any way but certainly no heirloom either.
MAGAZINE QUALITY - 5
These are robust little steel magazines. They have great spring tension, work very well and are relatively inexpensive even at this early stage. I ordered directly from Smith for $37. That's not bad for direct from factory new gun on market prices. Yes they are hard to load at first like any compact magazine. Man up, shoot more, build your thumbs up.
ERGONOMICS/FEEL/FIT AND FINISH - 4
I would personally prefer a slightly smaller back strap but I have itty bitty girly hands. Other than that everything fits well, controls are well placed and sized and this gun is THIN. I will compare it to some other guns later but even though in pictures it seems about as thin as a SIG P239 it feels much thinner.
FIELD STRIPPING - 4
So I concede once again that I am a SIG guy in many ways and I love the way a SIG field strips. That being said I hate the way a Glock field strips hate pulling the trigger to take a gun down. Nothing more then a training issue and I always teach folks to rack the slide several times when clearing a gun since should a magazine be in there one rack just loads a round. Several racks start spitting shells out and should be a gentle warning sign. This is true of any gun clearing. So where does the Shield fall. It's almost perfect except I don't like having to push down the small yellow sear deactivation lever. It is similar to Ruger P series take downs. Its no big deal, means I don't have to pull a trigger but it bugs for some reason. Other than that take down is easy and straight forward.
CONCEAL-ABILITY - 5
Even with the full sized 7 shot magazine this literally disappears under any kind of cover garment with just a bit of cant on the holster. IWB or OWB. With the six shot magazine it might as well be a magic trick. That being said even though this is a passable pocket pistol in cargos, dockers etc. it still screams handgun due to its shape. Personally I find this with all autos even the PM9. The .380s and the Rohrbaugh are about the only semi's that don't exhibit this. That being said weight and size of shield allow pocket carry in a pinch with relative ease. Really this is a pretty versatile, powerful pistol.
OVERALL - 5
After toying with the pistol and getting to know it I am tickled pink with it. It is pretty much the single stack Glock 26/27 I wanted. Just be aware it takes some practice. Remember my overall rating is how satisfied I am not an average of my ratings. Overall I am very satisfied. I think this is a very versatile, well built pistol that seems to fit my personal sweet spot. The fact the launch went so smoothly is also very impressive. My experience with S&W customer service has always been fantastic as well.
OTHER THOUGHTS
SIZE AND WEIGHT COMPARISONS
As you can see by the pictures the Shield doesn't look hugely different then say a Glock 26 or SIG P239. In practical use. It feels much, much thinner, feels much lighter and just carries so much better. It is not just the weight of the gun but less ammo in the gun and the magazine itself feels lighter. There really is a reasonably dramatic difference in feel between carrying a Glock 26 vs. the Shield for example. Included in the pictures below I put what I still believe to be just about the best defensive firearm for civilian carry for comparison. The lowly J-Frame. the J-Frame may be heavier and thicker but it much easier to pocket carry and draw from a pocket. It just looks like a wallet.
I don't have pictures but with the small magazine the Shield is a tad bigger then a PM9 and about the same size as a Nano in practical feel, pocket carry etc.
All with maximum capacity magazines (Ok I could have stuck a 33 rounder in the Glock but that would just be silly.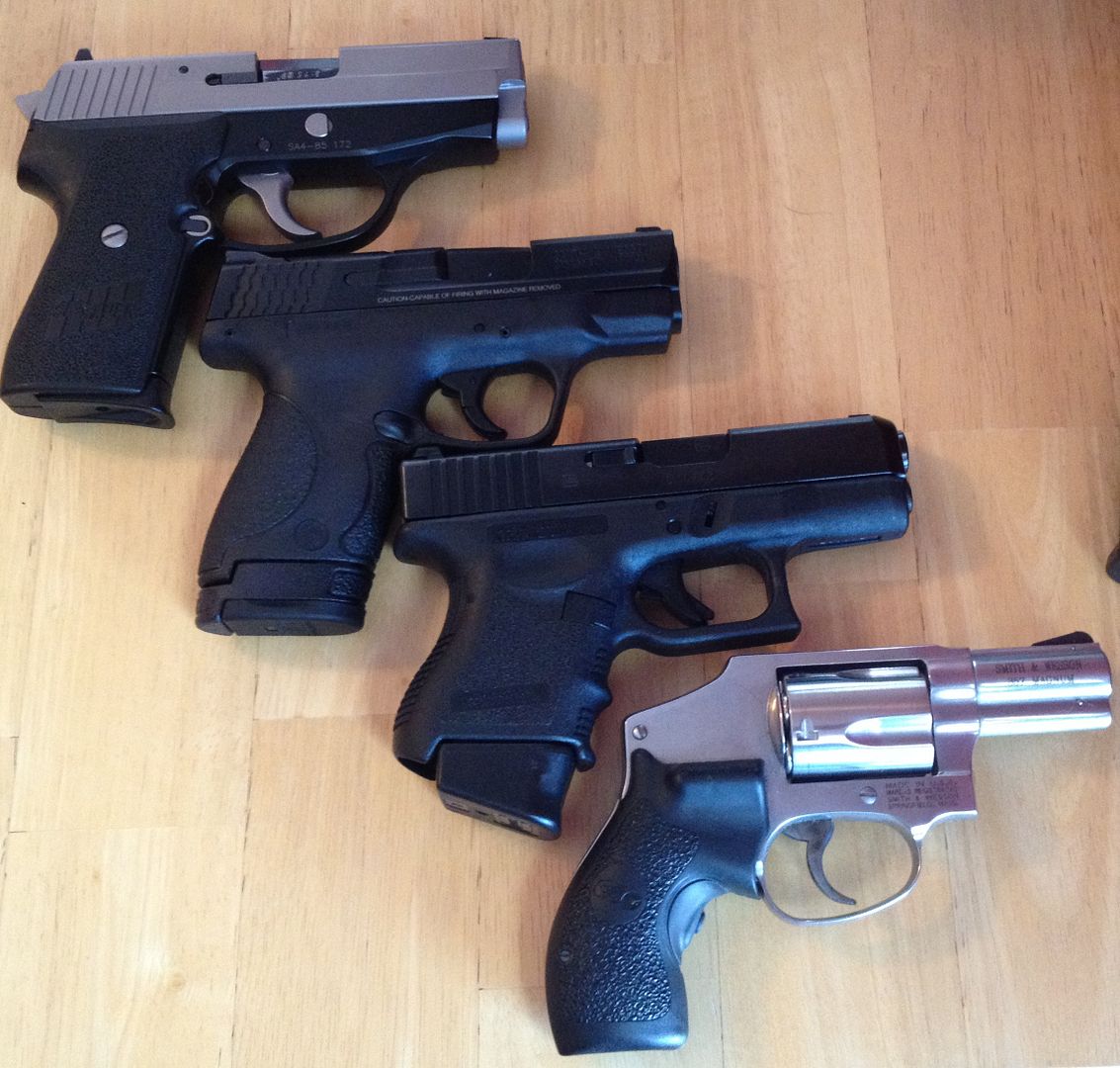 Thickness / Maximize capacity magazines.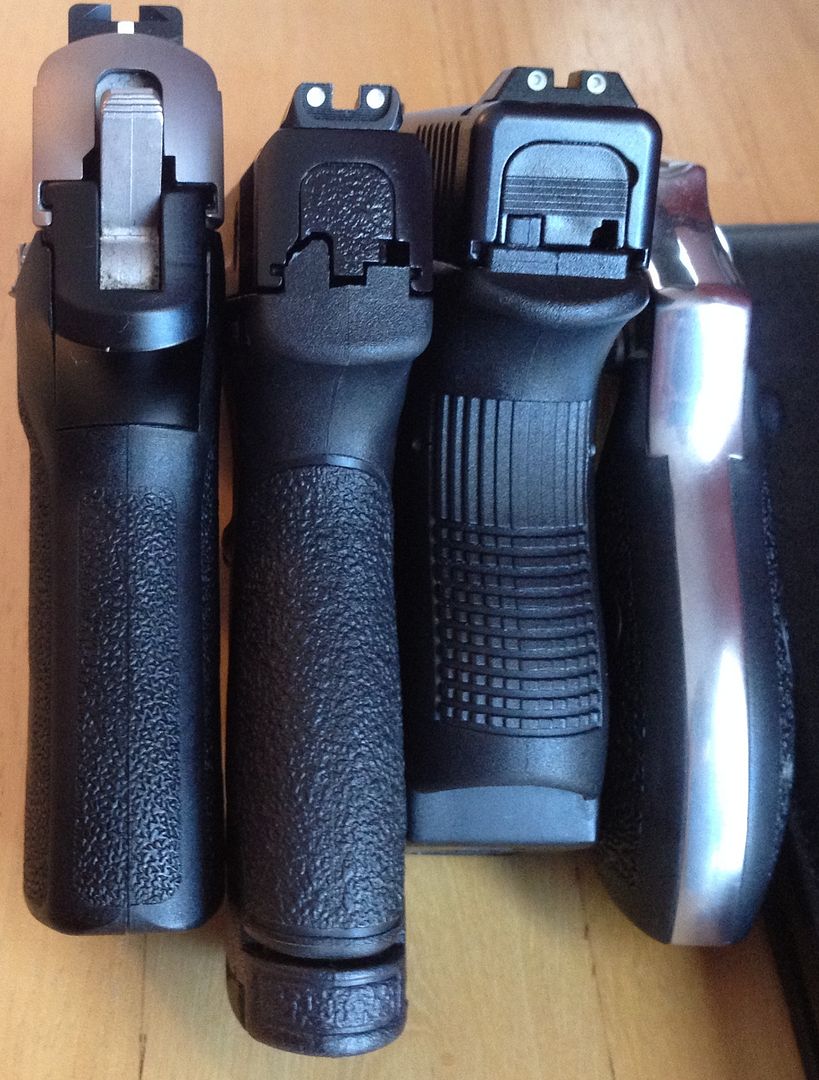 With small magazines / maximum conceal-ability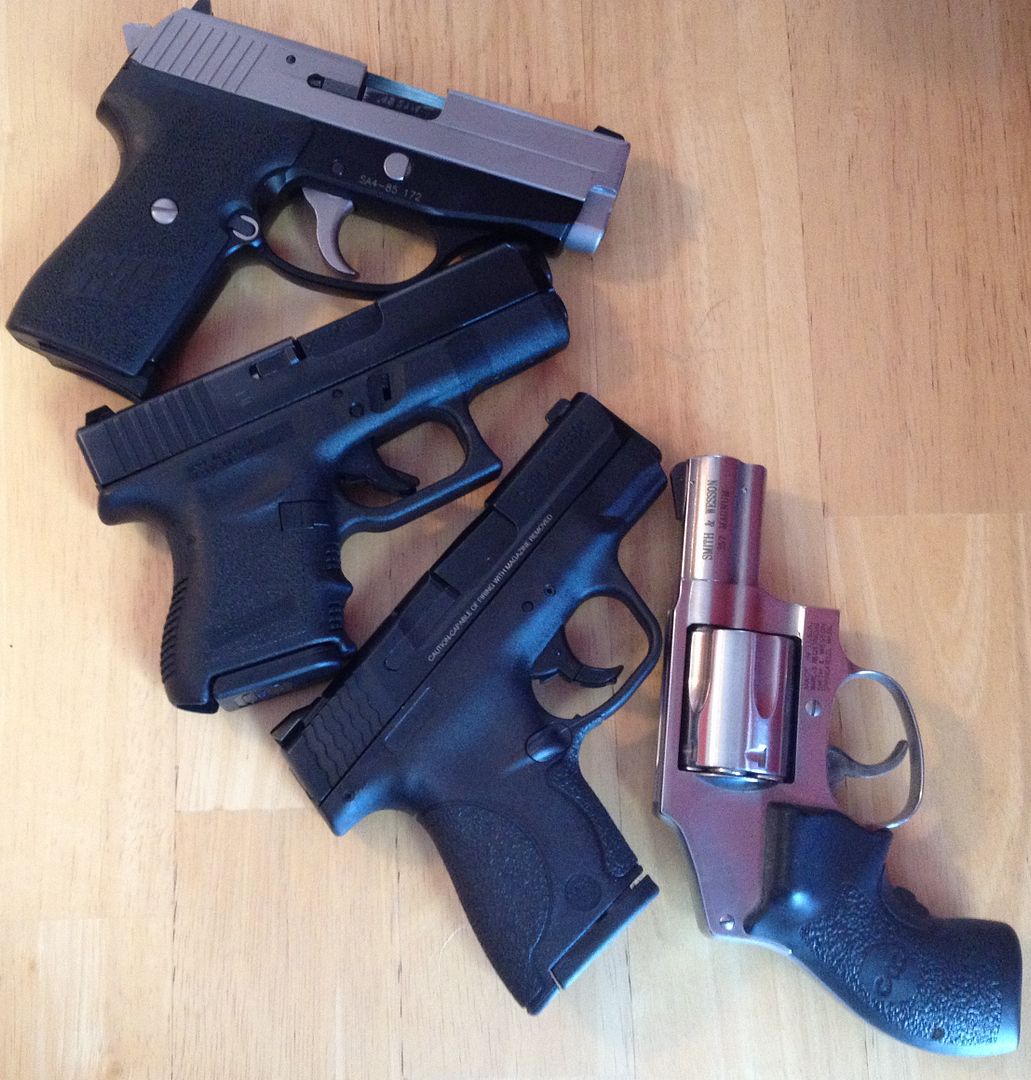 SHOOT-ABILITY COMPARISONS
For me personally they go like this.
SIG P239 by far the easiest. Shoots like a full size gun even in .40 its super easy to shoot. But remember I am a TDA guy who has always liked SIGs.
Glock 26 Easier to shoot then the Shield but only because of 9mm loading IMO. The G27 is pretty similar in shooting dynamics.
Shield .40 Once I got the trigger down it really was more of a pussycat then I first thought. Like I said it is about equal to a G27.
J-Frame .357. J-Frames are hard task masters but they will reward you. Slap some CT grips on you and you have a hell of a weapon.
OTHER THOUGHTS
The safety. Ahhh the much maligned manual safety. I am not a button, lever, doodad, safety kind of guy on defensive guns. Pull trigger go bang is about the most complex I want. I have a devil of a time with 1911s but again I have trained with traditional double action the most with glock types the second most. That being said I have found the safety to be a non issue. I have tried to activated through inadvertent means or non specific manipulation and have not been able to. It is small and unobtrusive yet easy to thumb down if need be. I am not going to say IT COULD NEVER COME ON BY ITSELF as that would just be silly but I will say it doesn't appear likely.
As always I am not a leosealgsg9girlscoutcommando of any type. I am low speed and high drag and have no desires or dreams or yearnings to be a door kicker, gun fighter. I don't ever want to hurt anybody and unless I am putting down a soda can rebellion paper and clay are my enemies of choice. So take my reviews for what they are. Just some guy on the interwebz who likes to shoot and has had the opportunity to shoot a great many guns for fun and relaxation.
Hope this provides some input and a data point for the community.
As always take care and shoot SAFE.
Chris