Well, one of my rifle goals this year was to get a Mini 14 set up exactly the way I wanted it. My son got involved so we ended up with two 2012-vintage 582 series Ranch Rifles.
The big decision was which Red Dot Sights to go with. Since we normally shoot at 25 yards, the maximum that our range accommodates, we did not go with scopes.
We equipped one of the Minis with the EOTech XPS3-0. I am very pleased with the EOTech. Here are my groups from last night at the range at 25 meters (the furthest my range can accommodate, alas)
Hosted on Fotki
The EOTech is mounted on the Mini using the GG&G tactical rail setup, my review of which on Amazon is here:
http://www.amazon.com/review/R3T3427...cm_cr_rdp_perm
(I would appreciate a positive vote on Amazon if you find the review helpful).
I tried the Burris rail set up, but in my opinion the GG&G was definitively better.
Here is what the reticle on the EOTech looks like: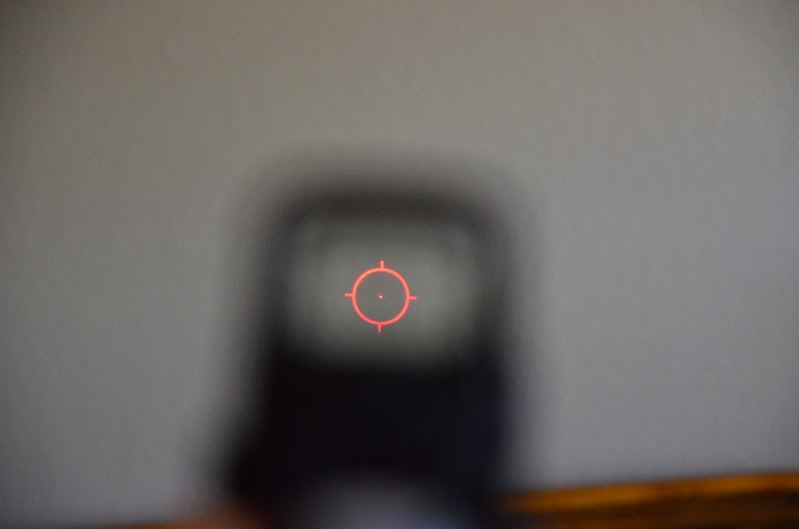 The nice thing about the above setup is that I can easily remove the bolt from the Mini without disturbing sight or rail. I find the EOTech to be very intuitive and easy to use. It was very easy to sight in/zero. I do well with it (for me; everything is relative) firing from the shoulder with it as well. That big 65MOA circle is great for quick target acquisition and the little 1MOA dot in the center is excellent for bull's-eye shooting. Here is my review on Amazon of the EOTech XPS3-0 (all comments equally applicable to the 2-0 version which is the same device without night vision capability) --
http://www.amazon.com/review/RHPQ2C3...cm_cr_rdp_perm
Another nice alternative to the EOTech is the Aimpoint CompC3 sight. Here is one mounted on my other Mini 14 using the same kind of GG&G hardware: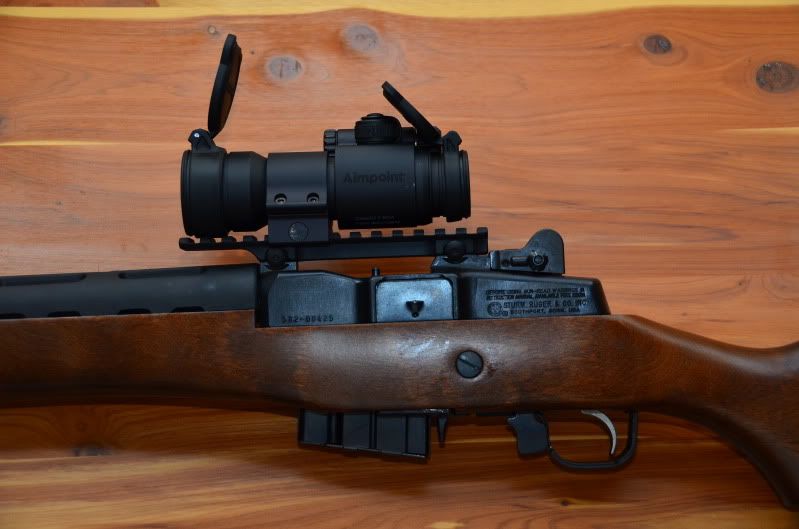 This is my review on Amazon of the CompC3 sight:
http://www.amazon.com/review/R7SJ71K...cm_cr_rdp_perm
Both sights are very satisfactory for use on the Mini 14. A discussion of their pros and cons vis'a'vis one another makes for fun conversation.