Hello. The good folks at Tuff Products responded to the call for a .41 Magnum Quick Strip shortly after their .44/.45 series hit the market and I am happy to report that these will be available in the very, very near future.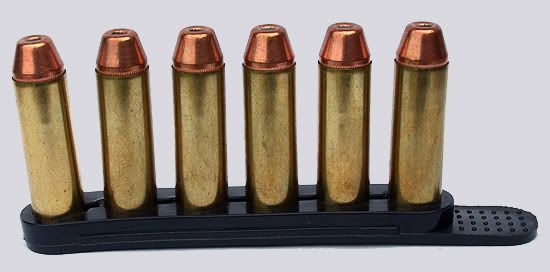 This Quick Reloading Strip is for the .41 Magnum and obviously holds six cartridges. I loaded this strip and carried it loose in Docker-type pants in a front pocket for 4 hours. All of the cartridges remained in the strip. Note the "bumps" on the tab at the end of the strip. They provide a very nice "grip" when using the strip.
Of course there is no need to carry these strips loose since the company offers carrier pouches for them.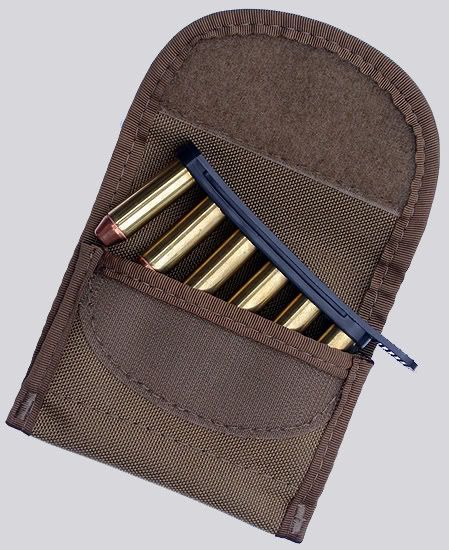 This pouch will hold two Tuff Quick Strips, but works fine with only one if you choose. It works just as great with the .41 Magnums as it did with .44 Specials and .45 Colt rounds.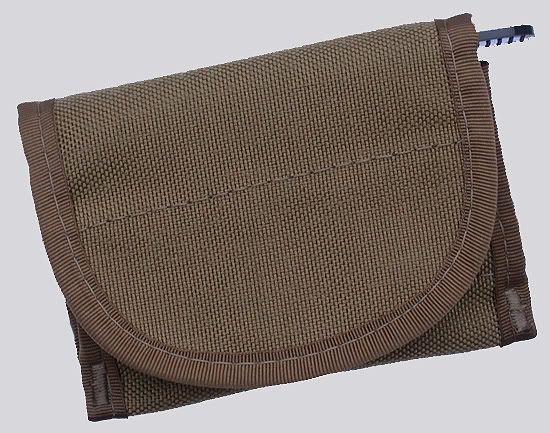 Closed, the Tuff Products ammo pouch is both secure on the belt and unobtrusive. This would be of less importance in the hunting field than would be the case in urban jungles where extra ammunition might need to be quickly at hand.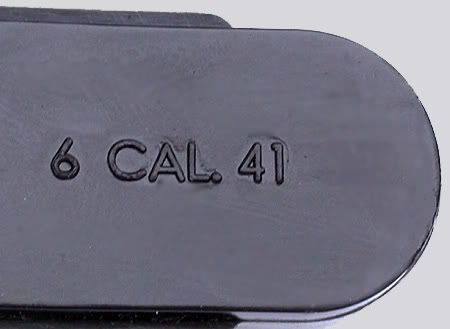 If you already have the .44/.45 Strips, don't worry about getting them confused with those for the .41 Magnum. Tuff Products very neatly marks the appropriate ammo for their Quick Strip on its back. Nice touch in my opinion.
Tuff Products' Quick Reloading Strips are currently available for .44 Special/Magnum, .45 Colt, each holding six cartridges as well as one for .22 rimfire which holds ten and eight rounds in a strip for .327 Magnum. (It should be noted that the .44/.45 strips work with .410 Shotgun shells and the .460!) Other strips fit the following: .475 Linebaugh, .480 Ruger and the mighty .500 S&W. They are available in .38/.357 as well...but with eight rounds as opposed to the competition's six.
The .41 Magnum strips are expected to be ready for sale around the middle of May as are strips for .45 Auto Rim! If you
want
to pre-order, a simple explanation is at Tuff Products' site and there is certainly no "requirement" to do so.
Take a look at Tuff Products at
www.tuffproducts.com
for prices and other products you might be interested in.
Questions should be sent to Mr. Natt Stevens at:
[email protected]
I am not associated with this company in any way but have to say that I've been very positively impressed with their Quick Strips and carry pouches. In my opinion, prices are
not
outlandish for the strips (two per package) and they simply do what they are
supposed
to do: carry conveniently and allow quicker reloading of extra revolver ammunition.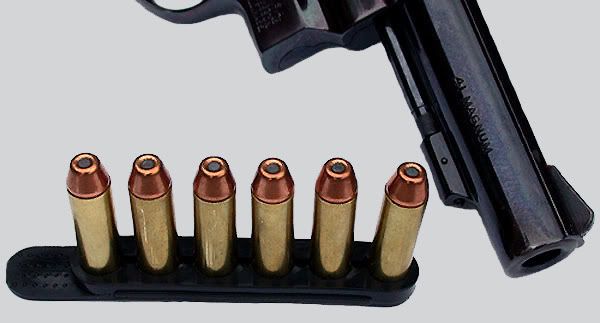 I own but one .41 Magnum, a "shooter grade" S&W Model 58. Though I have a speedloader or two for it, I am very favorably impressed with Tuff Products' Quick Strips for it and will be using them in conjunction with their carry pouches in the future due to the "low profile" and convenience.
As a frequent revolver shooter/user, I appreciate having these reloading strips available in
other
than the .38/.357 version that has been around for decades.
Best.