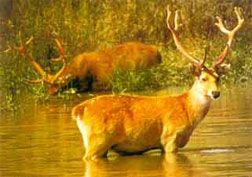 Barasingha deer originated in Nepal, India. Also known as
swamp deer
. They were critically endangered a decade ago. Loss of habitat is the primary reason for their rapid decline.
Several breeding pairs were imported to USA game ranches at huge costs. But it was several years before hunt-able populations were established.
Barasingha are heavy both in horn and body. Average weight of a mature buck is 400-450 lbs. Six long points per side typify this species. In fact, barasingha is form of the Hindu word for twelve (12).
I've never actually seen this species except in photos and a video titled,
Hunting the Super Exotics
. But I thought many hunters who enjoy this website would enjoy learning about the many species of deer that inhabit our planet. All animals were created by our Lord for our good stewardship.
Not wanting this to turn negative but
PETA has not done a thing
to protect species overseas from becoming extinct. Their big focus is upon American "bad guys" who hunt for meat and enjoyment. Ironically, American hunters pay the trophy fees to encourage Texas ranchers to build up herds of these very rare and amazing animals!
Jack