Don't worry about the .001" difference between jacketed bullets. I have shot Sierra .4515" JHP's in my 45 LC's and they shot just fine.
In my opinion what is more important is bullet size and chamber mouth size. Lots of 45 LC's have .456" sized chamber mouths and .452" barrels. It is very difficult to get any sort of decent accuracy in those revolvers with .452" bullets. Ruger revolvers are very good in that the 45LC's have .452"ish chamber mouths and barrels.
As for lead, I am shooting .454" diameter lead in everything. I have older revolvers with the huge chamber mouths and modern with tighter mouths. These bullets shoot fine without any pressure problems in the modern pistols without any pressure issues. I could not tell any significant velocity differences across the screens.
You can of course shoot 230 JHP's in the 45 LC but I only did that to shoot lead out. The 45 LC is at its best with 250 + grain weight bullets.
Code:
5" M25-7 	
			
255 LSWC (.452")  8.5 grain Unique lot UN331 WLP (nickle) primers
2-Sep-90	T ≈  92 ° F		
			 
Ave Vel =	859		
Std Dev =	56		
ES  =	172		
Low  =	780		
High  =	952		
N =	6		
			
			
255 LSWC (.454")  8.5 grain Unique lot UN331 WLP (nickle) primers
2-Sep-90	T ≈  92 ° F		 
			
Ave Vel =	867		
Std Dev =	61		
ES  =	161		
Low  =	791		
High  =	952		
N =	6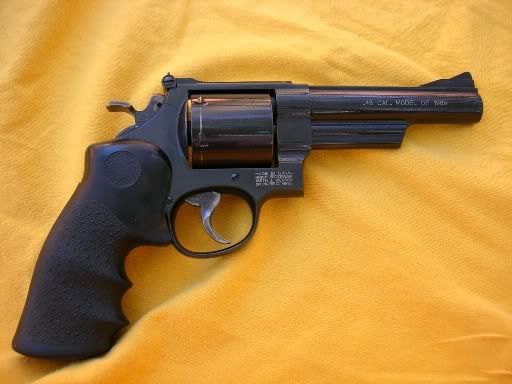 Code:
5 1/2" USFA Rodeo 			
					
255 LSWC (.454") 8.5 grs Unique  thrown, R-P cases, WLP primers	
12-May-02	T = 84°F				
					
Ave Vel =	844	 	 	 	
Std Dev =	33	 	 		
ES  =	117.8	 	 		
High  =	907.6		 		
Low  =	789.8		 		
Number Shots	12				
					
240 JHP Sierra (.4515") 8.5 grs Unique  thrown, R-P cases, CCI300 primers
12-May-02	T = 84°F				
					
Ave Vel =	848	 	 	 	
Std Dev =	54	 	 		
ES  =	146.4	 	 		
High  =	911.8		 		
Low  =	765.3		 		
Number Shots	6