Thought I would share this with the group.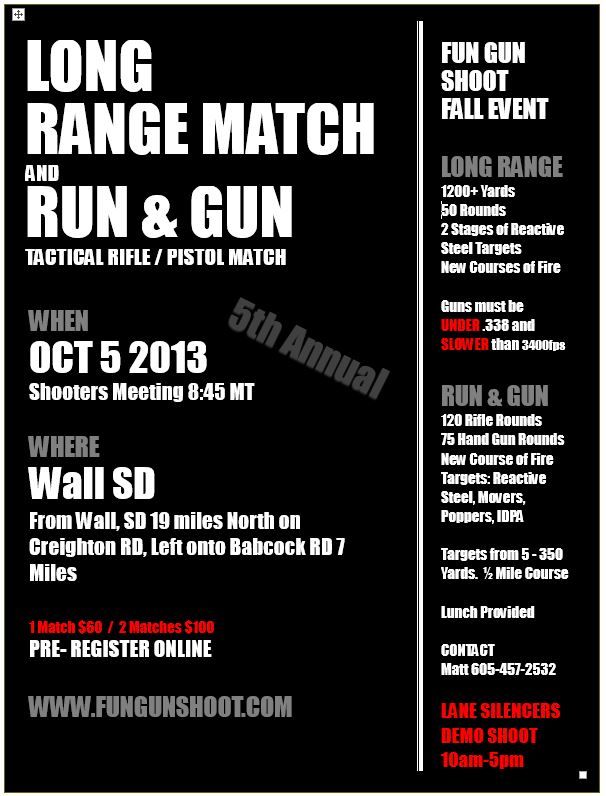 LONG RANGE MATCH
This is a 2 stage match, with targets out past 1200 Yards. Targets are reactive steel, the shooter will have to acquire the targets, make adjustments and fire with in the stage's time limit. Guns must be under .338 and less than 3400fps. Shooters should expect to shoot Prone most of the time, it is possible that shooters will be asked to take a few shoots Kneeling or Off Hand. Bipods and Sticks are allowed. 50 Rounds required. Limited to 30 Shooters.
RUN & GUN
This tactical rifle / pistol course is a fast paced 3D stage scored on hits and time. Speed and Accuracy is the name of the game. Targets included Silhouette Targets, Poppers, Swingers, Plate Racks, Spring Loaded Plates as well as some IDPA targets. Rifles must be no larger than 30-06. No rifle caliber pistols or 5.7x28mm. NO AP or TRACER ammo. Shooters should bring 120 rounds of Rifle Ammo and 75 rounds of Pistol Ammo as well as enough magazines and the proper gear to carry the above rounds with them threw the course. Bipods and Sticks are allowed. Limited to 30 Shooters.
Cost is $60 for 1 match $100 for both. Lunch is included.
Past Event Photos are posted on our FACEBOOK PAGE at the link below.
https://www.facebook.com/fungun.shoot