Maglite versus Car
Because I built MEGALIGHTS out of common Maglites, I have heard some concern (not in this Forum) about the durability, sturdiness, and ruggedness of the Maglite in general.
As my wife was leaving for Church in her Lincoln Town Car I grabbed the flashlight closest to me (a black bear 678 made in a 2 "D" Maglite body), and after switching it on I put it under the front tire of the car and told her to drive over it.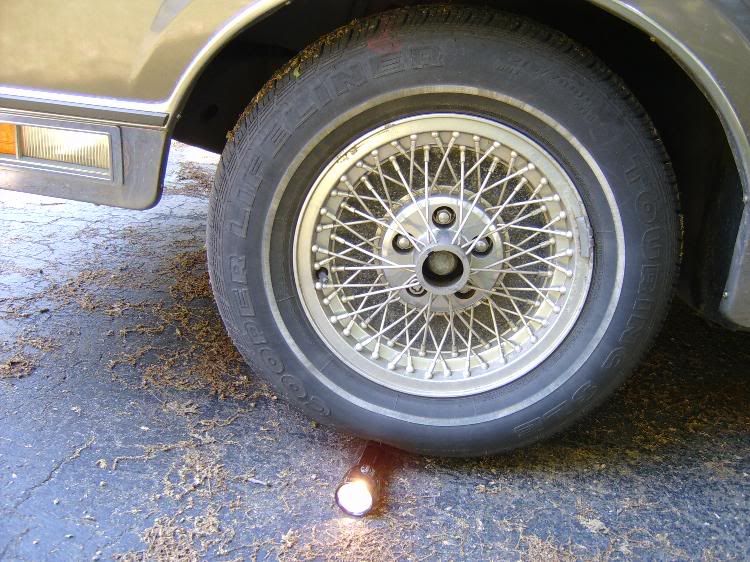 Before the tire could climb over, the flashlight was dragged for a few inches in my rough driveway; that produced the scratches that you can see near the tail cap and in the top of the head in the second picture.
As you can see the flashlight was on during the test and nothing happened to it except for those few scratches.
I don't worry about the scratches, as I can buy a new "host" for less than $17.00 in any Wal-Mart or Home Depot; I just have to transfer the parts of my Black Bear 678 to the new Maglite "host" to have a spanking new flashlight again.
I did the water test before to demonstrate to those doubting Thomases that the flashlight cannot get wet inside by simple rain (somebody in another forum wrote that) and now I am proving that the flashlight is sturdy enough to drive over it with a 4000 pound car.
What is next? Whack some heads to prove that my flashlight can take it??
I will if I can get those doubting Thomases to volunteer for the test, I only worry that the after pictures will be not proper for family viewing!!
Best regards
black bear 84