I broke down and bought a KSG!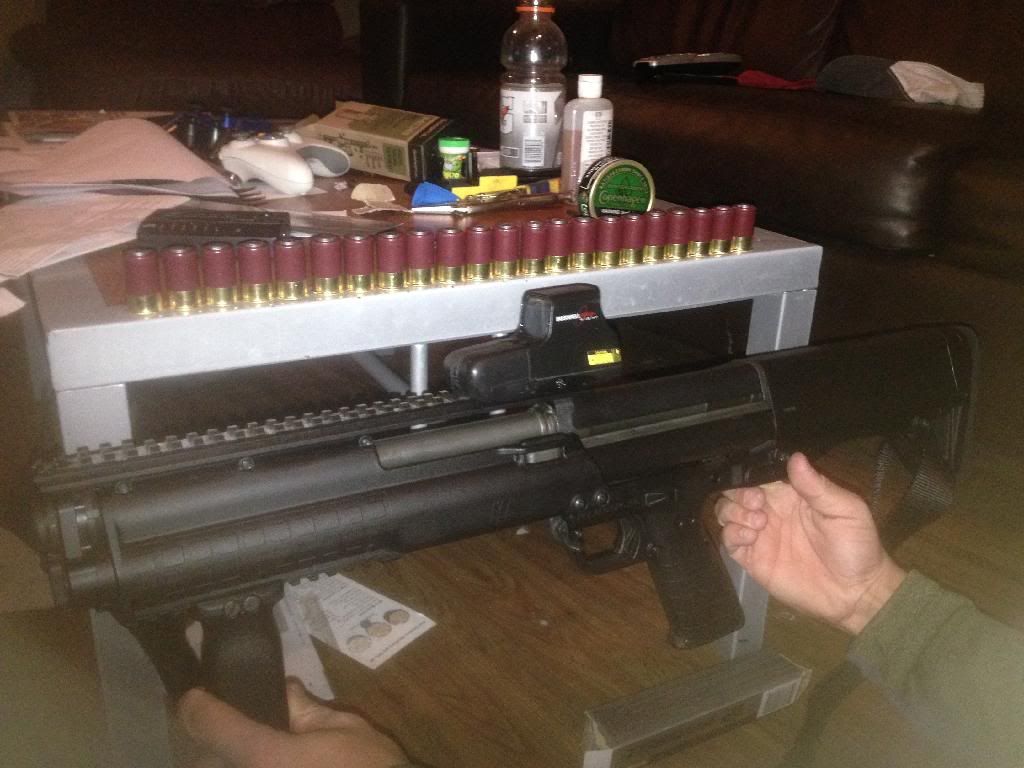 It will hold 22+1 aguila mini shells (pictured are the 7/8th oz slug variety) and it feeds them absolutely flawlessly.
First impressions-
It is quite possibly the handiest weapon I have ever owned. It balances perfectly when loaded, points very naturally, and the grip and controls are all very comfortable and intuitive to manipulate with one exception. The tube selector switch. Just playing with it I have found that the best way to switch tube is by stretching the thumb of your firing hand rearward and flipping it. Also unless you keep count of your rounds it's virtually impossible to know when to switch until you hear "click". Recoil is very controllable compared to a conventional shotgun.
My only other caveats with it are- 1) that you have to absolutely abuse it when ejecting a spent shell. It slides 99% of the way smoothly and with ease, but it takes a decent amount of force to go the last 1% and release a new shell from the tube, and- 2) that it is extremely difficult to load compared to a conventional shotgun.
Here is a video of my first range trip with it, note how I take a second to realize that I need to switch tubes
.
http://youtu.be/epGzQusc4po
So to sum up
PROS
- huge ammo capacity
- (mostly) great ergonomics
- light and compact
- controllable follow up shots
CONS
- awkward to load
- hard to know when to switch tubes
- must be pumped like its a quarterhorse and you're a jockey on the homestretch with a triple crown in sight
-I paid $950 for a pump shotgun... Albeit a pump shotgun that puts a huge grin on my face