As I have posted in the revolver area of this forum, I have taken an interest in fast-draw using a double-action revolver for strictly fun (no self-defense purpose). What I soon discovered is that there is a real scarcity of holsters for that purpose. Lots of in the waist band, out side of the waist band...most holsters these days are intended for concealed carry...not speed drawing. Therefore, having some latent leather working skills, I have proceeded to make some of my own. Having researched fast draw via Topperwain, Jordan, and Cunningham, I have settled upon the Jordan Border Patrol as my choice, complete with steel insert. Some of my blatant, unashamed copies:
[IMG]
[/IMG] This is for a four inch 66.
[IMG]
[/IMG]]This if for a four inch 686. This holster has the brand, "AS" on the front.
[IMG]
[/IMG]This is for a L frame, .44 Spl. three inch, 696. I went nuts and made this one with a Kangaroo leather(supposed to be super strong while still supple) lining as an experiment.
[IMG]
[/IMG]I also made a couple of "Askin's Avenger" styles for my .45 XSE Colt (also lined with Kangaroo) and one unlined for my Browning HP.
[IMG]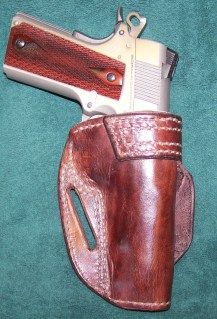 [/IMG]
[IMG]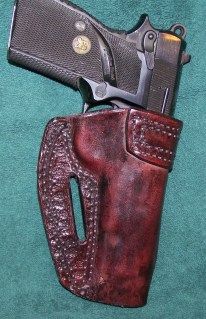 [/IMG]