I figured I would share my experiences with these two tools.
I have two older progressive presses. RCBS RockChucker/ Piggy back 2 and a Hornady Pro 7 upgraded to the Projector.
Any way adding a Bullet feed die seems like a pretty good upgrade to improve performance. Cast Bullet loadings are my main loads.
The 1st one I ordered was the RCBS Tube fed bullet feed die for 45 ACP
I purchased this because Unlike the multi caliber bullet feed die offered by RCBS this one is advertized by RCBS to be able to feed cast bullets.
When I got the die. I set it up for jacketed bullets to test it out. I wanted to make sure it would function in that role 1st.
I have tried it on my Piggy back and the Hornady with jacketed bullets and it performs very well with those. Very easy to set up and use.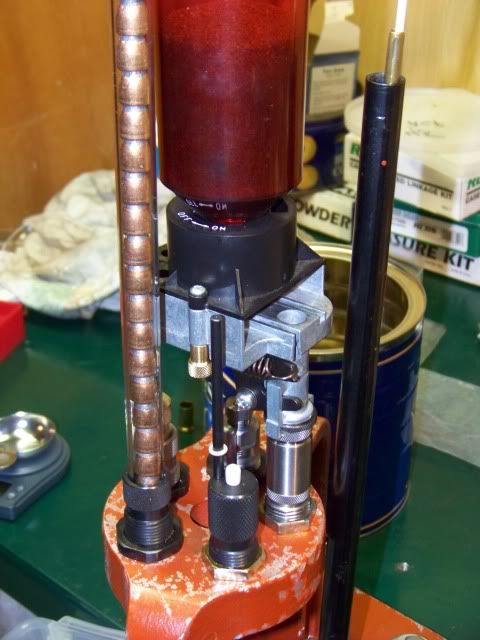 As for cast bullets.... Ahhhhh not so much. Well actually not at all.
Here is what it looks like as parts.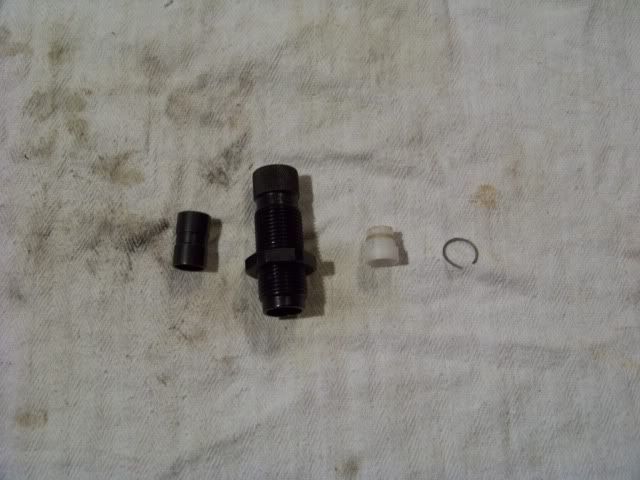 The problem with this set up is the plastic fingers that prevent the following bullet from dropping through the die is the perfect length to catch in the lube groove of the cast bullet.
On jacketed bullets it just slides over the nose as the bullet is removed.
I tried a couple different styles of bullets and different lubes.
You can dink around all day and maybe get one bullet to drop.
I do use it for Jacketed loads and copper plated loads. Works well enough for those. It comes with the tubes, And shaving that extra step out of the process does speed things up considerably. So if thats your thing. Go for it. It does cost more than the Hornady offering. When I get ready I will be selling this to some one who only loads jacketed bullets and getting the Hornady.
So what about the Hornady bullet feed die?
I got one today for 38/357 bullets. I did not want to double down on the 45's right now.
1st the bad part. it is designed for the bullet feeder not tubes.
So you will have to figure out how to tube it your self.
I found some 7/16ths tubes at Linens 'n Things.
yea I know.... but they have these tubes for fish tanks.
http://www.lnt.com/show_product/11442-507393
Ok so I set it up for a test. Even with out the tubes you can get 10 or 11 bullets in the die to try it out.
I tested it with 125gr JFP's .358
These fed flawlessly and showed I had it set up correctly.
Here is a image of the two dies next to each other to show the design.
I expected to have to modify the die by polishing the internal parts. I had seen this done on some U tube videos.
But I noticed that my jacketed bullets were .358 and these fed great. My LEE 125 gr rnfp's are also .358.
Lets try it.
Have to tell you. it worked like a charm It fed 20 bullets with out an error.
The lube I use is my pan lube recipe. 45% Vaseline/ 45% Canning wax/ a crayon for color. and a bit of STP oil treatment.
I dont know why the STP is in there. I was told to put it in so I did.
this stuff is slippery not sticky like 50/50 NRA formula.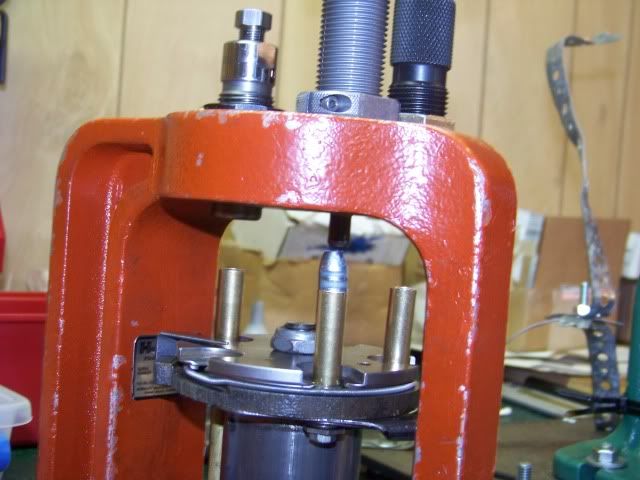 Post one of 2