I have been shopping for a 1-4x to 1-6x scope for some time now and my budget was a limiting factor to say the least.
I looked at Leupold, Nikon, Burris, Leatherwood and GRSC as options.
I wanted a illuminated scope but, if that came at the cost of poor glass I would give that up. I found that for what I was using the scope for (Plinking/target) I was not going to wait another 3-4 months to save up for a $500-$700 price range scope that some were recommending as I wanted to shoot this year LOL.
I went to a few local stores and looked at a number of scopes but, was not able to look through most of the ones in my list as they were either sold out or did not stock them!
After thinking long about which one would fit me best I went with the GRSC 1-4x CRS. I got it yesterday afternoon and I was happy with the quality of the scope for the price. I got a Military discount from Ed (Great guy) and that got the price down to $291 shipped!
CRS 1-4x
I bought a Burris PEPR mount at Cabelas to mount it. I do like the mount and I may even utilize the top rails to put a Micro Red Dot on it?
I got a chance to do a quick sight in last night before the sun when down and that was a great time to check out the low light ability of the scope. It has green and red illumination with 3 settings for each. The illumination is not bright enough to see in bright sun light and when set to 1x it can not be used as a red dot sight. When used in a low light setting the illumination works fantastic!
The reticle is a Horse shoe, bullet drop compensating design and is one of the main reasons for buying this scope. The reticle uses small circles to sight in the human head (Which is about 10 inches) at 100 yards (The Horse Shoe) 200, 300, 400 and 500 yards. It also has 6, 7 and 800 yard range dots. Ed did not invent the Horse Shoe reticle but he is the first to use it in this manor. He patent it over 26 years ago and Burris is the only company that he brought the design to years ago that later (Now) has given him credit by paying him for a license for use on their XTR scope. Others have chosen to take the low road. Ed is also the designer of the Receiver End Plate tactical sling adapter. Had Ed not spent 45 minutes on the phone with me last week I may have overlooked these things and or found out about them later?
I am by no means a expert when it comes to scopes make that anything! So take this review with a grain of salt. Also I have only had this scope for less then a day and my review may change? I can say at this point it was a great buy at this price and may prove to have been the best choice out of all the scopes on my list? Time will tell.
Pro's:
1) Clear glass
2) Good low light illumination
3) Locking turrets (See Below)
4) Reticle design. Great CQC scope!
5) Price
6) No questions asked money back if your not happy with it!
Con's:
1) Locking turrets. Can be an issue if you forget to unlock them when making adjustments? Not really a con as long as your mind is still working? Mine is not!
2) Illumination not bright enough for day time use although the black recticle in sunlight is super clear and easy to pick up fast and the illumination was intended for low light conditions. Could have second as a Red Dot on 1x power if it were brighter.
3) The elevation turret was a bit hard to move in the down direction.
All in all this is a great quality scope at this price point and I am certain that this scope would cost much more if you were buying them from a distributor! Maybe as much as double what the price is? If your looking for a Close Quarters Combat Scope with a recticle that works for this purpose? I would strongly consider the GRSC CRS 1-4x as a front runner on your list.
If you go to the GRSC site and see the 1-6x? It was going to be ready for sale around the middle of June but, because it is being manufactured not far from the reactors in Japan that date is uncertain? It is also in a higher ballpark price wise.
Pictures:
Recticle at 4x with Red illumination on. These pictures do not reflect how clear the glass is. This is not a great pic as you can see it is a bit pixelated. I will try and take a few better shots.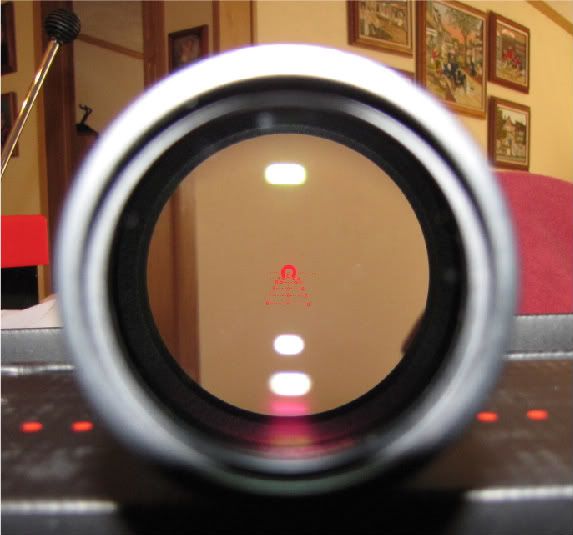 Recticle at 4x with Green illumination on.
Mounted on my AR.
Low light sighting in at 25 yards on a 8" target. Was in a rush as it was cold and getting dark.