Never being quite happy with the sights or ergonomics on this weapon, I decided to change things up a bit. I wanted a closer grip and no big mag in my face, like this.
First, I chopped about 4.5" out of the middle of the stock. Then, I cut grooves to help strengthen bonding and structure for some JBweld
A small chunk of cutting board for filler, build up the shape with Bondo putty.
After rasping and sanding to shape; two coats of black Fusion paint, sanding lightly with 400 grit to dull the finish. Finish up with a good coat of fiberglass resin to seal the whole deal in a good, hard shell.
Dremel in a new position stop to get length of pull just right.
File and sand smooth to 600 grit, submit it for approval of the masses.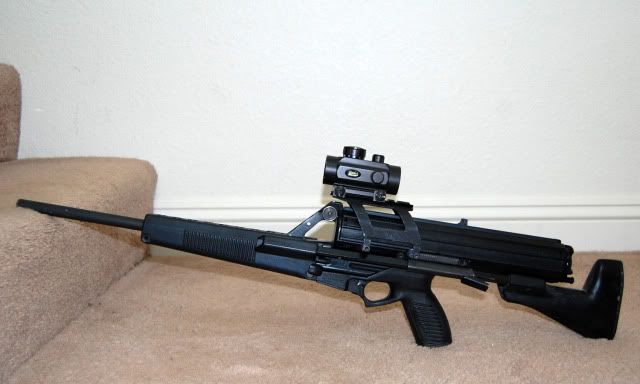 I am replacing that cheapo dot sight with a good holo soon. And yes, it's still well within minimum length. Not an SBR.