You know, I L-O-V-E shooting my cast .38 handloads, and I carry them as my primary load in my revolvers. But, I wouldn't carry them in speedloaders or speed strips, because I was afraid of them getting dinged up in my pocket. Heck, even my jacketed rounds sometimes get dinged up in the pocket (not to mention the lint and crud that get into them); just look at the one on the left of this photo (which doesn't really show how bad the dent is, but shows it's there).
This has been going on for years: I've always liked the FBI Load as carry ammo, but have always defaulted to carrying some sort of jacketed ammo (which we all know is not the best for snubbie use) for back-up because I didn't want the soft lead to become dented and messed up.
Well, a couple of weeks ago, I got to thinking that what I needed was some sort of a way to protect the bullets in the cartridges in the strips in my pocket. And, since I carry two speed strips at a time, I thought that a dual strip envelope would be a nice idea. Something that would protect the cartridges in the speed strips, but would allow me to draw them rapidly and get them into action.
No one made such a thing, though. But I contacted our own Erik Srigsley (Srigs), and he was willing to give the idea a shot. We fleshed out the idea a bit, and, this week Srigs sent me this.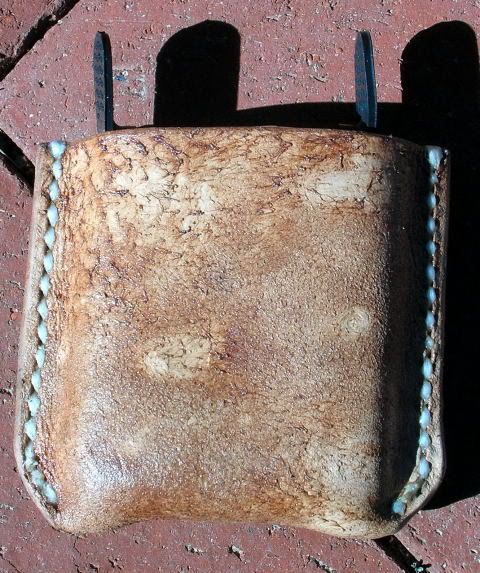 We designed it to be able to carry two Bianchi Speed Strips, loaded with .38s or .357s. Srigs made it rough-out (and the exterior is a bit tacky to the touch) in order to ensure that the shooter only draws the Speed Strip from the pocket, not the entire carrier along with the strip.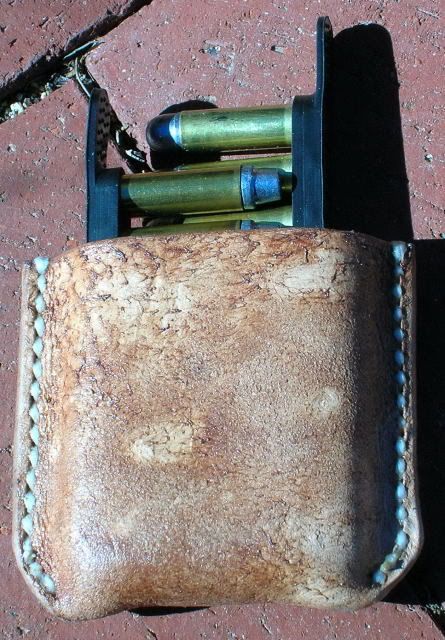 It works well. I've been carrying two speed strips of hardcast handloads for a day, through all sorts of activity, and there's not a single ding on a single bullet (here's a photo showing some of my handloads with PaulB's 195-gr RNL bullets and a strip of THE LOAD). The carrier prints like a small wallet or coin purse in the pocket - it doesn't even SUGGEST "gun accoutrement."
The carrier works well for .357 Magnum rounds as well (here are some photos showing .357 Silvertips and Buffalo Bore 158-gr JHCs - big medicine for a factory load).
Anyway, if you're like me and you carry speed strips and want to carry lead bullets in them, you NEED to contact Srigs about getting one of these made up for yourself.
http://www.sideguardholsters.com/