Folks,
I thought I'd share this because I haven't seen a great many reviews of the CMMG dedicated .22LR upper, just the .22LR conversion kit for 5.56mm NATO AR-15s.
Anyway, I had been researching .22LR uppers for a while and finally picked this up (along with a Black Dog Machine X-Form .22LR magazine) at one of Palmetto State Armory's brick & mortar stores in Columbia. I initially was intending to get the variant with the railed gas block, but PSA had none in stock (despite their website showing them available - not the first time this has happened). No biggie - the main reason I was considering the railed gas block variant was because it was a few bucks cheaper, and I would be mounting an optic anyway.
In addition to the F-marked front sight base, the upper I purchased has the optional stainless steel chamber collar (which should be easier to clean) and the standard black oxide-finished bolt & bolt carrier. It did not include the optional forward assist (just a plastic plug its place) or the optional bolt hold-open adapter. I currently have no intention to add either.
First impressions were good. The upper reciever and barrel finish is nice and the bolt & carrier appear to be quality pieces. The standard handguard is your typical carbine fare with heat shields, but nothing special. It was a bit loose and was very quickly replaced with a Magpul MOE set.
I also attached a Vortex StrikeFire red dot optic (was on sale for $119 online from PSA!) to more or less mimic the Aimpoint PRO I have mounted on my Spikes upper/PSA lower 5.56mm NATO carbine setup. I couldn't justify the price of an Aimpoint for this upper, and the StrikeFire seemed like a good compromise. It's clearly inferior to the PRO in terms of glass clarify, dot sharpness, construction, and especially battery life, but seemed nice enough, and much better than almost every non-Aimpoint red dot I've ever handled. The fit of the CMMG upper to my PSA lower was excellent - almost no play at all.
I was able to take it to the family range last Friday. After loading up the one mag I had (several more were on order) with CCI "AR" high-velocity bulk ammo, I pulled the charging handle (which has a much shorter range of motion with the .22LR bolt), and... JAM. The round had hung up on the feed ramp. I ejected the round and tried to feed another, with the same result. This time, I pushed the bolt forward with my finger (remember - no forward assist!) and the round fully chambered. I silently prayed that it was just a break-in issue...
...and it was! After that, the CMMG upper ran like a top. Within just 6 shots, I had the red dot zeroed at 25 yards and proceeded to shoot for the rest of the afternoon. In all, I shot over 300 rounds without a single malfunction. Every round from a fresh magazine loaded flawlessly after the inital mag.
Even more impressive than the reliability of the CMMG .22LR upper is the
accuracy
. I can honestly say that, of all the stock .22LR semi-auto rifles I've shot (Ruger 10/22, Marlin 60, Winchester 77, Remington 552 Speedmaster and 597, Thompson Center R55, etc., etc.), the CMMG is easily the most accurate. At 25 yards, and without really taking my time, I put an entire magazine (25 rounds) into a single hole in the bullseye of a paper target not much larger than my thumbnail (sorry - that target is still stapled up at our range - I didn't think to bring it with me because I didn't anticipate writing this little review). At 50 yards free-standing, it was quite easy to ring a small (3" diameter) metal swinging target, providing I did my part. Remember - this is all with bulk ammo!
All-in-all, I have to say I am
very pleased
with this AR upper. It is without a doubt, one of the most fun firearms I've ever shot. I also have to give a little kudos out to the Vortex StrikeFire - it is a perfect companion to a rifle like this. I can't wait to take this one out again and run a wider variety of ammo though it (I am confident it won't have any trouble with any copper-plated high-velocity ammo).
In a nutshell...
PROS
-Accuracy, accuracy, accuracy - Just plain steller.
-Reliability - 100% from the first round fired
-Fit & Finish
-Price - Much less expensive than .22LR uppers from Spikes, tactical Innovations, etc.
CONS
-No standard forward assist
-No standard bolt hold-open - From what I understand, the available device can be finicky, but I have no experience with it.
Anyway - on to the photos!
Here is the upper with the MOE handguard set and Vortex StrikeFire installed (along with the stock handguard set):
The melonite-finished .22LR barrel: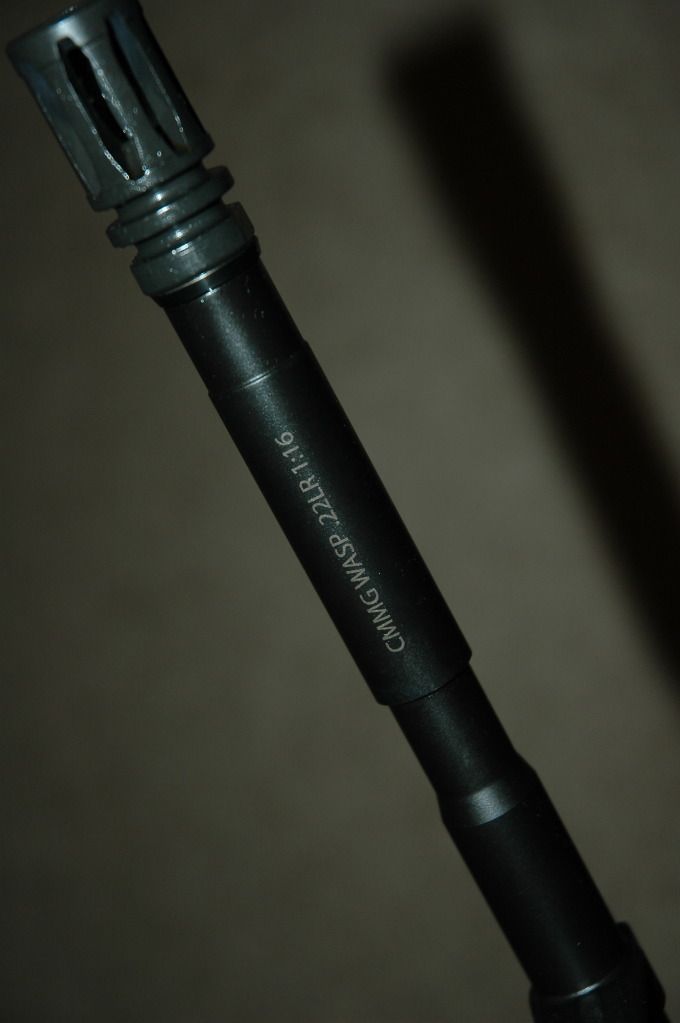 A photo with my companion Spikes M4LE 16" upper with BAR free-float quadrail and PSA lower: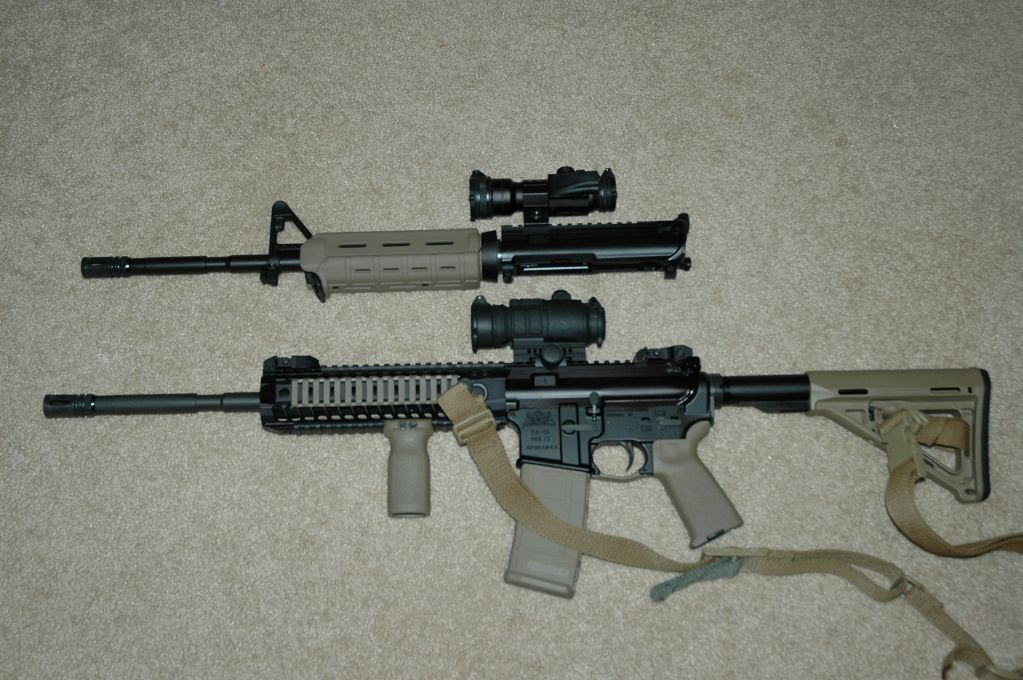 The CMMG 16" M4LE WASP .22LR Dedicated upper on my PSA lower: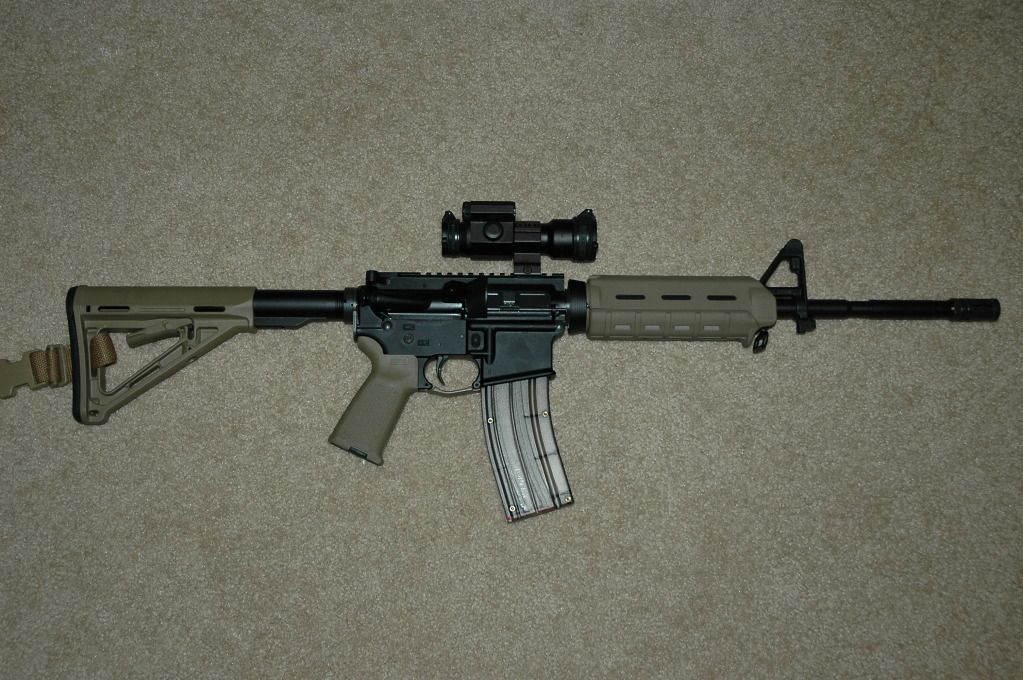 A close-up of the bolt & stainless chamber collar: